This article appeared in the Australian Magazine 20 May 2006 p24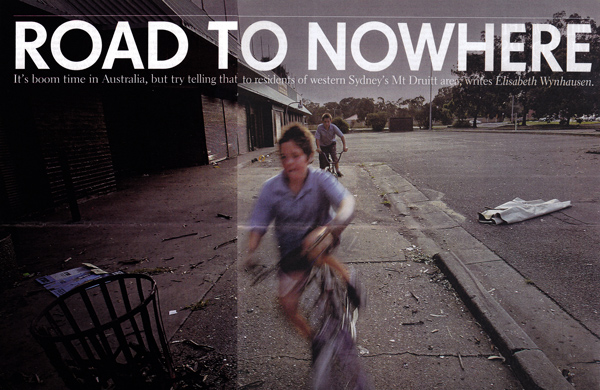 Road to Nowhere
It's boom time in Australia, but try telling that to residents of western Sydney's Mt Druitt area, writes Elisabeth Wynhausen . 





A line of black plastic tape snakes along the floor of the bottle shop at the Clock Hotel in Bidwill, a section of Mount Druitt in Sydney's west, the largest public housing estate ever built in Australia. The Bidwill bottle shop has been the only local source of staples such as bread and milk since the shopping centre across the road closed a couple of years ago. Children buying a packet of sugar or a loaf of bread have to stand on one side of the black tape, away from the boxes of beer, wine and spirits piled high on the other side of this official demarcation line. 

Sixteen years into a period of mass prosperity that has come to seem unending, there is an invisible Australia hidden behind the suburban ordinariness of public housing estates such as Mount Druitt - or West Heidelberg in Melbourne or Brisbane's Inala - a land where children go to school hungry and teenagers study for their finals by the light of a lamp they have set up under a tree in the yard. 

In a nation that had the highest rate of social mobility in the world 30 years ago, geography is destiny for many of the children growing up in such neighbourhoods. Excluded from the benefits of a boom that saw real incomes rise 21 per cent between 1994-95 and 2003-04, they may have less chance than their parents of escaping from suburbs mired in poverty. Yet an issue that goes to the heart of the way in which we think of ourselves no longer has much traction in politics, except when filtered through punitive welfare reforms. 

A place cut off from the world that surrounds it rapidly develops its own mystique, glorifying the very things the outside world affects to despise. At the rundown Fuel Save service station in Shalvey, the housing estate next to Bidwill, four boys aged 11 or 12 are playing a war game with homemade bows and small metal missiles. Two boys are having a rest propped up against the wall. One has been hit. He lifts his shirt to show me the angry red mark across his abdomen. "Doesn't it hurt?" I say. The boy next to him answers instead. "Yeah, but that's the way we play in Shalvey," he says, as if honour-bound to uphold the area's fearsome reputation. 

The NSW government built the brace of estates that included Bidwill and Shalvey from the mid-1960s to the late-'70s after resuming hundreds of small, semi-rural plots. There were nine housing estates yoked together with the existing suburb of Mount Druitt, the more variegated hub of the area. But in the long run, the public housing of "the Druitt", as locals call it , would be interchangeable with West Heidelberg or Inala, both built as housing for the working class, in the optimistic period after World War II. 

"The original vision was a sort of declasse landscape where everyone would be fairly equal," says George Morgan, a senior lecturer in humanities at the University of Western Sydney. 

State housing authorities gradually relinquished the grand egalitarian vision of giving workers on low incomes the chance to own their own homes. Parts of Mount Druitt were still under construction when the government switched to providing "housing of last resort" for welfare recipients, turning whole streets into dumping grounds for distressed families. Mount Druitt and the like soon came to symbolise a social experiment that had failed. Increasingly isolated from the rest of the society, tenants of the poorest estates are bundled together in far-flung neighbourhoods that lack the most basic amenities. 

For a time late last year, after 5pm no buses at all went through the streets of Willmot, the housing estate in the furthest corner of the Druitt because children were chucking stones at buses. Tucked up against an old armaments dump (a source of pollution locals blame for cancer clusters), Willmot is 5km from the lower-middle-class suburb of Hassall Grove, where Lee Francis used to live. Only locals would be aware that one suburb is in "the Druitt" and one isn't. But Francis sees them as worlds apart. "Hassall Grove was like my Utopia," he says. "Everyone there was working. There was no one on welfare that I knew. People weren't leaning over your fence, saying 'have you got a smoke', 'have you got money', have you got this, have you got that." 

He was earning good money - $1100 a week - as a trucking company supervisor, a job he held for seven years. "I had everything . I loved the job. I was proud to say what I did," says Francis, a burly, ruddy-faced man of 40 whose arms are covered in tattoos, a remnant of his early life in the navy. He and his wife had bought a house - his first. But like many other people in Hassall Grove, they were working such long hours to keep up the payments they spent little time together. When they separated and he was prevented from seeing his four-year-old daughter for six months, the legacy of his tumultuous childhood caught up with him and he had a breakdown. 

He was given a "houso" flat in the Druitt but didn't stay long. He had always been determined to avoid the fate that befell him and his sisters when their violent, no-hoper father was jailed and the family moved into public housing. He avoids it now by paying $270 of his $443 a fortnight in unemployment benefits to rent a two-bedroom house in Willmot that he keeps spotless, except for the big glass bowl of butts he saves to strain the tobacco when there's no money for cigarettes. 

Politicians, opinion-makers and other beneficiaries of the market economy like to absolve themselves of the fact that the dice are loaded by suggesting that we each have our fate in our hands - an assumption that overlooks the reasons some lives unravel after catastrophic events. 

" It 's so easy to get where I am now. The hard part is getting out again," says Francis. He keeps himself busy, doing volunteer work for St Vincent de Paul - one of many welfare agencies in the area - but his inquiries about jobs have been fruitless. Employers may get a whiff of his desperation. One told him he was "too eager" for the job. Francis refuses to concede that his neighbours may have made as valiant an attempt to get off welfare. "If you think you're the same as these people around here, you'll become one of them." 

Others keep to themselves, as if shutting the door against chaos and disorder. "I don't socialise with many people around here. My child doesn't play with anyone," says Paulina Herman, who also lives in Willmot. Since her divorce, Herman, a mental health nurse who says she is having a break from work at the moment, has raised her daughter, seven-year-old Angelica, on her own. Though beautifully dressed, with her hair in plaits, like a little girl in a picture book, Angelica is restless. Diagnosed with Attention Deficit Hyperactivity Disorder, a condition treated with dexamphetamines, the girl plays indoors, behind the drawn blinds of their two-bedroom house. " You've got to be careful around here," says Herman, emphasising her aspirations by suggesting she feels a need to protect her daughter from the world right outside their front door. 

Before the light fades, the streets empty and the evening seems to stop in its tracks, the chirruping of the crickets remains audible until pandemonium erupts somewhere out of sight; the screams die down about the time the ambulance and the police car race down a driveway, past the backs of the houses, which is where trouble almost invariably breaks out. 

MOUNT DRUITT IS NOT the most disadvantaged postcode in Sydney. That dubious honour goes to Claymore, a public housing estate near Campbelltown in the southwest of Sydney, according to a study by emeritus professor Tony Vinson. Releasing the report in 2004, Father Peter Norden, policy director of Jesuit Social Services, flagged the prospect that such neglected areas could become "no-go zones". There was a riot in the Aboriginal precinct of Redfern that summer and, the following summer at Macquarie Fields, another public housing estate in Sydney's southwest. 

Though there hasn't been anything of the sort in Mount Druitt (in 1981, overblown coverage of a brawl between local teens hit the headlines as "the Bidwill riots"), pockets of the Druitt rate so highly on what you might call the misery index - the statistics on early school leaving, unem-ployment, mental illness, domestic violence and admissions to prison - that the area is regularly put under the microscope by academics and journalists. 

An analysis of 2001 census data for a profile of Blacktown suburbs by the Western Sydney Regional Information and Research Service (WESTIR) showed that nearly half the people aged 15 and over in Bidwill, Willmot and Shalvey had an income under $300 a week. Last September, Blacktown South-West, the area that includes the public housing estates of Mount Druitt and eight other suburbs, had an official unemployment rate of 11.5 per cent, the highest in Sydney, according to figures from the Australian Bureau of Statistics. 

" It 's become synonymous with social disadvantage," says humanities lecturer George Morgan. A year ago, a student from Mount Druitt marched into Morgan's urban studies class at UWS with a satirical report she had found on the internet: "A major earthquake measuring 5.8 on the Richter scale hit in the early hours of this morning, with the epicentre in Mount Druitt. Victims were seen wandering around aimlessly muttering 'f---in'ell' and 'whadda carnt'. The earthquake decimated the area, causing approx-imately $30 worth of damage. Several priceless collections of mementos from the Torana Appreciation Society and the Mount Druitt Progress Hall were damaged beyond repair. Three areas of historic burnt-out cars were disturbed. Many locals were woken well before their welfare cheques arrived ... " 

Mount Druitt had a population of 62,250 in 2001. Without a doubt, most locals are decent and hard--working. Yet the area is so stigmatised, residents cannot help seeing it as others do - forcing them into an endlessly unsettled relationship with the place they call home. "You're fighting all kinds of preconceived ideas about Mount Druitt - like only the dregs go there," says Susan Lucock, a local radio identity who used to live in Shalvey. When The Weekend Australian Magazine tries to talk to the mayor of Blacktown, his publicist inquires if the story will be "positive", before the mayor proves to be "unavailable". A request to talk with the principal of a public school in Mount Druitt prompts the same question from the NSW Department of Education. "Will the story be positive?" asks a publicist. 

To be fair, the press has played its part in inflaming local fears that reports about the Druitt will paint it as the lower depths. Ten years ago, The Daily Telegraph ran a front-page photograph of the graduating class from Mount Druitt High with the headline "The class we failed". Some of the class successfully sued News Limited (which also publishes The Weekend Australian). Following negotiation, the students won an undisclosed payout. 

The furore over the article provoked a restructuring of the high school system. Existing high schools turned into senior and junior colleges; two years ago, the state education minister of the day extolled the result, saying "a record number of students" were getting through the Higher School Certificate. These gains could be measured against the realities of life for young people in the area. It was a student at Loyola Senior High School in Mount Druitt who told his teachers how he would study outside, after setting up a lamp in the yard. 

HOUSING WAS A HUGE POLITICAL issue in the decades after World War II. The housing shortage meant young families often doubled up or lived in converted garages until they could move into a home of their own. Many felt that moving to Mount Druitt gave them that opportunity. 

Concrete was still being poured over the vegetable plots on the north side of the Druitt, some 50km from downtown Sydney, when reports in the media suggested that uprooting thousands of families at once to settle them in an area that had no shops, no hospital, no preschool, no amenities and no bus service could be a calamity in the making. 

In 1973, a few months after the election of the Whitlam Labor government, Tom Uren, the new urban and regional development minister, toured Mount Druitt and said the government would not allow any more "disaster" suburbs. "You would see streets with immaculate houses and gardens so beautiful they got council awards," says local historian George Nicolaidis, mayor of Blacktown in the mid 1970s. "Yet two or three houses further down, all the furniture would be thrown out on the footpath." 

Signs of trouble multiplied as governments gradually turned over what public housing became available to disadvantaged welfare recipients. Jane Bancan had heard of Willmot before she moved in - it was where you went to score speed. Some say it still is. "There's a dealer here selling speed who gets his own kids to deliver it ," says another person who lives in Willmot. 

Though Bancan had waited years for public housing, the department offered her something as soon as she said she was willing to go to Mount Druitt. While Bancan, 33, sits in the lounge room, her 78-year-old father, George, a retired tradesman who lives 100km away on the NSW Central Coast and is visiting Sydney for the day, is outside scrubbing away at the front of the house, which is spattered with egg yolk. Neighbouring kids "egged" the house months ago, but Bancan hasn't got around to cleaning it . A big woman whose weight has ballooned since she went on methadone in 2004, Bancan also takes antidepressants. The drugs may rob her of energy and she often finds herself falling asleep in the afternoon, after getting up early three mornings a week to catch the bus to the methadone clinic in the suburb of St Mary's. 

Bancan lives with her 12-year-old son, Jack, and the two are close. In the musty little lounge room are photographs of Jack and two other shiny-faced children. The two younger children live with her ex-husband. "I made a few bad mistakes three years ago," she says. She had separated from her husband and was living with the three children when her casual drug use turned into a full-blown heroin addiction. "Maybe it was the fact that the marriage didn't work out. Probably self-indulgence, too, to be honest about it ." 

She used up the money from her divorce settlement a gram at a time. "She was staying in bed, like, all day. She never got up to play with us," says Jack, who sits on the couch next to his mother, listening to a story he has heard before. Bancan says things are now better than they were. "The antidepressants I'm on are working quite well. I've never felt this stable - specially not without substance abuse of some kind." 

She recently applied for a job for one day a week at the local housing department office but doubts she will get it . Since a psychotic episode at the age of 19, she hasn't held down a steady job, a common story in neighbourhoods such as Willmot. The WESTIR analysis revealed there are almost as many Willmot people out of the labour force as in it (45.2 per cent as against 50.1 per cent; 4.7 per cent not stated). "Governments have not learnt their lesson," says John Stone, co-ordinator of the St Vincent de Paul office in nearby Emerton. "By having all these people in the one area, they don't see what can be achieved by the rest of society." 

Bidwill has more people out of the labour force (47.8 per cent) than in it (44.3 per cent) and more households with single parents than households with couples and children. The Druitt neighbourhoods have two to three times more single-parent families than the wider Sydney population - a fact that may be measured against figures invoked by Michael Raper, president of the Welfare Rights Network. He quotes research for the federal Department of Family and Community Services (published in the Journal of Labor Economics in June 2004) showing that 45 per cent of the single parents receiving income support reported episodes of mental illness in the previous 12 months. 

Under the Federal Government's Welfare to Work legislation, which comes into effect this winter, single parents of children over the age of eight will have their benefits reduced by $40 a week to try to force them to find work, regardless of the number who suffer from mental illness. Welfare advocates insist that the real problem is the lack of support for these people. 

Brent Robertson and his wife, Debbie, live in public housing in Shalvey with three of their four grown sons. All three are disabled. One has Fragile-X Syndrome (a chromosomal defect associated with autistic behaviour and developmental delays); two have schizophrenia. Now and then, the Robertsons have gone out on what they imagined to be a simple shopping expedition which ended with one of their sons clinging to a shopping centre wall in inexplicable terror. Now and then, their sons are hospitalised - but not in Mount Druitt. Though the area has the highest incidence of mental illness in Sydney, says Robertson, there is no psychiatric unit at the local hospital. 

A nuggety man with a small beard and specs, Robertson, 56, has been a factory worker, a truck driver, a laboratory attendant, a dockhand and a public service clerk. Debbie Robertson, 47, started working at 16 as a cashier at Woolworths. But for the past 10 years they have been on income support: each gets $430 a fortnight as a full-time carer. Their sons, aged 25, 24 and 22, each get $490 a fortnight in disability benefits, out of which they're expected to give their parents $240 for board and lodging. The rent is $360 a fortnight, which means the Robertsons together have $1970 a fortnight to run the household for five adults and keep their old van on the road. The parents notched up $5000 on credit cards buying furniture for their fourth son and say they can only dream of the day they can scrape together some money for a deposit on a house for the others. 

"What we're concerned about," says Debbie Robertson, "is what happens to them when we're not here. Where are they going to go?" 

Long interested in politics, the Robertsons switched their allegiance from the ALP to the Greens and even ran for office. Having tried once, Brent Robertson plans another quixotic bid for the state seat. Not only has he never been mugged in Mount Druitt, people run the other way when he tells them he's a Green, he says, posing for our photograph next to a political placard planted in his neat front garden. 

Mount Druitt remains a study in contrasts, where you will see well-kept houses and gardens without a wayward blade of grass around the corner from the broken-down, soon-to-be-condemned buildings in which the NSW Department of Housing stows men just released from prison. There were 700 ex-prisoners released into the local area in 2004, says David Hudson, the previous local area commander for Mount Druitt, one of the busiest police stations in the state. They charge 300 to 400 individuals a month, more than any police station in the state. 

Four years ago, the NSW government funded the $14 million Mount Druitt Community Solutions and Crime Prevention Strategy. Local organ-isations were given money to open community centres and to lease minibuses to distribute crime prevention information. There was money for accommodation for young indigenous offenders and money for early intervention programs for "at risk" families - to succumb to the jargon required by the government bodies that fund welfare programs. This jargon is so widespread you find yourself meeting a young man who says his girlfriend had "her own sort of issues" as he explains that they gave a woman they did not know very well their two small children to look after for a time. 

His story is a reminder of the forces that compel some people to self-destruct - and the heroic efforts of those trying to stop them. The Uniting Church agency Burnside runs NEWPIN, a program for new parents who may be at risk of harming their children. On the day The Weekend Australian Magazine visits the NEWPIN Fathers' Centre in Bidwill, an old house provided by the Department of Housing, the men playing with their infants and small children under the benign gaze of co-ordinator Hugh Houston include a dark-haired 22-year-old in a T-shirt and track pants. 
His main goal, says Paul*, "is to give these girls a better life than I had". His daughters are both under two, which is how old Paul was when he was taken into care. He was sent back to his family at the age of nine after the authorities declared him to be uncontrollable. His stepfather flogged him with a belt but there wasn't much else in the way of parental attention. "They had one rule: 'I don't care what you do; just don't bring the cops in'. From when I was 10, I pretty much looked after meself." 

He was 17 when a drug-induced psychosis landed him in a psychiatric hospital. Though he had barely been to school, on his release from hospital he went to TAFE and qualified as a rigger. He was working with one of the construction crews building the M7 motorway when his girlfriend fell pregnant with the second of their children. "I cleaned my act up. I sort of went, 'this is for me, a family I can love'." They had applied for public housing. Before they were given a house in Mount Druitt, he says, the Department of Housing paid for temporary accommodation, installing them in a series of motels, hotels and caravan parks at a cost of $6800 for three months. That was when his girlfriend's "issues" convinced them to let another woman care for their children (giving her a reason to claim additional benefits). "Someone was looking after the girls - a so-called friend of mine. I got the girls back last week." 

When The Weekend Australian Magazine catches up with Paul again, a few months later, Cindi*, his 20-year-old girlfriend, has just had another child. He isn't sure how she will cope. Cindi grew up around domestic violence and has attacked him a few times, he says. But the violence is all around them. 

Some years ago, the then Western Sydney Area Health Service reported that the accident and emergency department at Mount Druitt Hospital recorded some of the highest admission rates of any NSW hospital for interpersonal violence. 

Mount Druitt was more recently ranked sixth in the state for "domestic violence related assaults", according to the NSW Bureau of Crime Statistics and Research. Police are regularly assaulted after interceding in what Hudson calls "situations fuelled by alcohol". The police superintendent - a master of understatement - says "home delivery of alcohol causes some problems in areas like this".

Pubs are not supposed to serve drunks but there is nothing to stop a bottle shop from delivering a carton of beer to someone not knowing they are battering a partner senseless in a drunken rage. And every neighbourhood has its bottle shop. Coincidentally, in some suburbs the bottle shops are right across the street from the local preschools, a sample of council-approved planning some see as typical of the indifference of those responsible for the area. 

ONE OF THE IMPRESSIONS crowding in on a visitor to Mount Druitt, late in the afternoon, as children swoop about suicidally on their bicycles and young mothers drag their toddlers to the takeaway shop to get hamburger and chips for dinner, is that something is missing. The scene has most of the basic elements. Paved streets, brick houses, green grass, blue sky. There are elements peculiar to the place and the time, such as the thick clusters of overhead power lines and the spatters of graffiti on public buildings. But it all looks one--dimensional. Brought into being at the stroke of a pen, the public housing estates have a sort of smeared-over identity, with features that seem to mock their blighted beginnings. 

There are streets in Mount Druitt named after tropical islands. The suburb of Lethbridge Park has a Tahiti, a Noumea, a Fiji and a Samoa. Why? "Because it 's hot," said the late Jack Bourke, head of the Department of Housing when Mount Druitt was under construction. Nowadays Mount Druitt is home to the largest concentration of Pacific Islanders anywhere in NSW, but even they may wonder at names redolent of the promise of faraway places from the oppressive perspective of a place where promise is in such short supply. 

"Increasing numbers of our clients are not just second-generation, but third-generation, welfare," says John Stone, whose agency is trying to break the cycle with a mentoring program for teenagers. "In the 1970s, I was in the UK for a time. I noticed there that people were born, married and buried on welfare. That's developed here." 

Singling out welfare dependence as the essence of the problem, the Howard Government has responded with the Welfare to Work legislation, which will cut benefits for large numbers of people on disability as well as sole parents. The official line on the subject is that there will be more jobs for them because WorkChoices - the latest "reform" of industrial relations - will pare back workplace conditions and make it easier to dismiss unsatisfactory workers, clearing the way for employers to hire more people.

Critics argue that it may have the opposite effect, encouraging employers to replace permanent employees with casual employees whose part-time earnings have to be supplemented with benefits. As it is, more than two-thirds of young people enter the workforce as casuals. Those from areas of high unemployment, unable to rely on the sort of contacts that help other young people find unskilled work, may struggle to find a steady job. 

" It 's hard for them now to get work," says John Buttigieg, 31, who has paused to chat with a few friends passing the time of day outside the takeaway shop in Willmot. While Buttigieg picks up a little work doing labouring, the lack of transport means he is unemployed more often than not. But he says he is better off than the next generation. 

There is trenchant disagreement from Teddy Hart, an indigenous community worker in the area. "I know 60-year-olds who get up at six to go to work each morning. Their sons are lying in bed, waiting for the pension." 

In his book The Lowest Rung: Voices of Australian Poverty, based on interviews in Broadmeadows, Mount Druitt and Inala, historian Mark Peel quotes Elizabeth Newsome, a nun who worked with the people of Inala. "I would see three generations of a family ... I would see the first generation lose their jobs and fight to try and get back in. The next generation would say, 'Well, if we don't get in, our kids will.' Well, not now. There's no hope ... the kids know there's no hope." 

The outside world notices them only when they riot. But the rage that fuels the riots is more often turned inward, on the community itself, one reason many public buildings in Mount Druitt are swathed in cyclone fencing topped with razor wire. 

In spite of the fencing, there is barely a school that hasn't been vandalised, barely a wall that hasn't been "tagged". Boys no more than 10 go out at night with their spray cans, says Bancan's son, Jack, a fair-haired boy with an angelic grin. Tall and strong for his age, Jack can be awkward around other children, who tease him. But he used to go out with the boys from his neighbourhood after getting back from a church youth club on Friday nights. 

"They'd say, 'Come for a walk with us, Jack," he reports, obviously proud to have been invited. "I'd stay away if it was something like a gang bashing or something." He is a bit nervous about starting high school, he admits shortly before the start of term. In his first week at Chifley College, his new school, he is suspended for a week for fighting. 


*Not their real names.