This article appeared in the Australian 10 June 2006 p6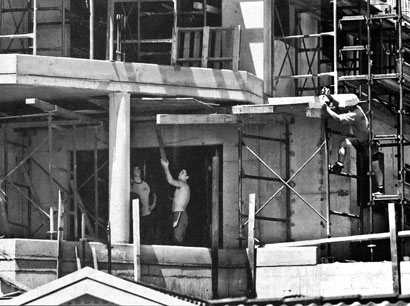 Employing casual tactics
The Government is pushing job-seekeers into precarious employment, farming them out to labour-hire firms, reports Elisabeth Wynhausen



Mark Dal Molin registered with a labour hire firm on the NSW south coast taking on a crew of maintenance workers for a big local company. Before getting any work, he found that applicants had to do a brief induction course. Not unusual, he thought. But the woman giving the seven or eight men in the room a screen presentation projected a picture of workman in company uniform and siad that failure to provide and turn up in industrial clothing, including a hard hat, earmuffs and safety gloves - personal protection equipment the employer is legally obliged to provide - would result in instant dismissal.

"This is unemployed people straight off the dole queue she's laying this on," Dal Molin says.

What struck him was that they were bring given no real choice but to register with a firm apparently ready to flout the law.

Centerlink instructs dole recipients to sign up with a member of the Job Network. They lose their benefits for eight weeks if they fail to follow up 10 jobs a fortnight or refuse suitable work, precarious work at minimum wages included.

"When a job comes up, the company sends you an SMS (moblie phone text message) or email saying contact someone at a certain company," Dal Molin says. "Nine times out of 10, in my experience, it's a labour hire firm."

Labour hire was growing by leaps and bounds long before the federal Government's contentious Work Choices legislation aided and abetted the rise of insecure employment. Labour-hire firms temporarily employ the workers they are hiring out, charging a fee to companies that need their labour, perhaps after laying off permanent employees.

"Companies say to you, 'We don't want to hire you permanently, we'll get you through labour hire'" says Dal Molin, a fitter and turner. "They say they they want three electricians, three fitters and they want 'em for three days. It's like going to Hire and hiring a jackhammer for three days."

According to Elsa Underhill, a senior lecturer at Deakin Business School in Melbourne and an expert on labour hire: "The combination of casual employment coupled with unpredictability of working hours contributes to an acute sense of insecurity among labour-hire employees."

None too surprisingly, most labour-hire employees are unhappy with a situation likely to prevent them from forming bonds or making plans.

"Tens of thousands of building workers... have been forced into this precarious type of work," says Andrew Ferguson, the NSW secretary in the construction division of the Construction, Forestry, Mining and Energy Union. "

The impact has been devastating. Workers lose job security, they become more vulnerable, many avoid complaining about poor safety or seeking workers compensation, and those who do demand basic entitlements are unable to get work."

In cities such as Wollongong and Newcastle in NSW, where skills shortages have failed to compensate for job losses in the sunset industries, blue-collar workers may find labour hire is their only way into the labour market.

"The only way people can get their foot in the door is through a labour-hire recruitment agency," says Daniel Wallace, an organiser with the Australian Manufacturing Workers Union based in Newcastle. "If you get through that, put up with it and keep your mouth shut, you'll get a permanent job. If you're unlucky, you can stay in that cycle for the rest of your life. Workers that don't go along with what's happening in the industry get black listed by labour-hire firms. They tell them: 'You've got to finish up today', after [the workers] ask something about their safety from the host company.

Underhill investigated labour hire for a chapter for a textbook called Labour Law and Labour Market Regulation: Essays on the Construction, Constitution and Regulation of Labour Markets, edited by Christopher Arup and others, published recently. "Some agencies terminate employment when workers raise concerns over working conditions and health and safety issues," she says

Her research revealed that there are sound reasons for labour hire workers to question safety provisions.

"There is evidence that labour-hire workers are more likely to be injured at work, less likely to be returned to work post-injury" she says.

Yet the Government is not only smoothing the way for labour-hire companies but subsidising them for doing what they would do anyway by paying those registered as job placement organisations for placing people in jobs.

Cameron Dare, the chief executive of IPA Personnel, a recruitment and labour-hire company with an annual turnover said to be about $200 million, disputes this interpretation.

"I wouldn't say it's the Government paying for something we already do," Dare says. "What they're attempting to do is to provide an incentive to labour-hire companies to prioritise those who are unemployed."

Job placement organisations are entities such as employment agencies, including government-funded Job Network agencies, and labour-hire firms that are licensed to identify suitable candidates on the Government's job seeker register and place them with employers in return for incentive payments form the Government, in addition to whatever fees they may collect from employers. The scheme is meant to expand opportunities for job-seekers and the labour pool for employers.

The job placement organisations get $165 to $385 for each person they place in a job - including a job for only 15 hours - and an additional $165 for a job for 50 hours or more.

While the Government can't be faulted for trying to get the unemployed - the long-term unemployed in particular - into the work force, Underhill says the scheme fails to give agencies the incetive to find people jobs of sufficient duration to provide "meaningful labour market experience". Instead, she has come across figures that suggest the scheme is encouraging labour-market churning, or short-term work.

Underhill was trawling through the website of the Recruitment and Consulting Services Association when she stumbled across some information slides she assumed had been left there by mistake. Part of a presentation by Department of Employment and Workplace Relations officials, the slides showed that the Government had been shovelling money at job placement organisations. Between July 2003 and April 2005, the department gave them 158.7 million. The officials revealed that two organisations had been paid more than $10 million and 37 were paid more than $1 million. There was no mistaking the enthusiasm of those bent on demonstrating the Government's largesse, but they skirted an issue that may come back to haunt them.

There are two kinds of job placement organisations. Some are members of the Job Network, which essentially replaced the old commonwealth employment service. Others are recruitment companies and labour hire firms that applied to be registered for "job placement licence only" after the DEWR opened up the scheme in 2003. In the next 21 months, according to the DEWR presentation to its association, these JPLOs received government subsidies for 83,999 placements "flagged as labour hire". That was more than half the total. By 2005/06, a departmental spokesman tells Inquirer, "JPLOs flagged around 70 per cent of their paid placements as labour hire."

Says a man in his 20s who has worked in the Adelaide offices of several labour-hire firms licensed as JPLOs: "If the Government is going to give money to a firm for placing people in jobs, what firm is going to refuse?". He tells Inquirer that when they placed a person in a job, "we'd get a fee from the Government and we charge the host company as well. That charge was a percentage of the person's wage plus the recruitment expenses we incurred. But a significant proportion of the firms' income came from government subsidies for placing people in jobs. And more and more labour companies are doing it."

The Government may be licensing them to double-dip but seems to be nervous about it, claiming providers will be paid only for employment with labour-hire companies rather than for hiring them out. But this is a charade.. virtually all labour-hire placements involve both.

When the Australian National Audit Office asked DEWR to specify the number of placements in which the labour-hire firm shown on the system as the employer was not "in practical terms ... the ultimate employer", the department claimed not to know.

That was far from the only time DEWR was a bit slippery about its statistics. In one of several reports into the scheme, the Audit Office said the Department had changed the way it measured its own performance in facilitating placements.

"This resulted in a substantial increase in reported performance from 284,825 placements in 2002-03 ... to 665,868 placements in 2004-05.

The audit office said the department's annual reports had failed to explain that it was adding in people who had found jobs "primarily through their own efforts".

"We'd question whether tax payers are getting value for money," Labour senator Penny Wong said.

When the scheme started three years ago, agencies were subsidised for placing workers up to 12 times a year. Within seven months this was changed to four times a year.

"There must have been a fair bit of rorting going on," Underhill says. A departmental spokesman says.. "No evidence has been found." Whether or not allowing labour-hire firms to make up to 12 claims a year was all but an invitation to cycle unemployed people through jobs, Underhill has other concerns.

"There is no incentive to play a role in placing people in jobs with a future," Underhill says. "There is little evidence to show that working through a labour-hire company leads to permanent employment. It's the opposite. They're paid for finding them temporary, casual work."

Despite the federal Government's professed concern about the skills shortage, its promotion of labour-hire will only accentuate the problem. "Neither the labour-hire agencies nor the host companies are willing to invest in the training of labour-hire workers" Underhill says.

The cost to society could be calculated as the wreckage of countless individual lives. For the moment, tradesman Dal Molin, a former union official is working as a labourer. "When I get work, I am living like a king," he says. Most men he knows feel the same, he says, reminded of something that happened last year.

These days much of the maintenance at BHP is outsourced to companies that pass it on to smaller companies that pick up the maintenance workers through labour hire. That's what happened the summer before last, when more than 100 men were employed to shovel shale, the flaky bits that come of steel when it is "cooked".

"It can be 60C in there and they let you in 10 minutes at a time with wooden clogs on your work boots and dusk masks," Dal Molin says. "There were 12 crews of 10 people doing alternating 10-minute shifts. But the amount of shale that had built was less than expected. The boys only got three days' work when they had planned on getting five days' work. They had held off financial institutions saying they were getting money then they got less. A lot of them were totally devastated."